Bookmark, Discuss This or Related Community
Why install the Add Bookmark, Discuss This and Related Community browser buttons?
Install Add Bookmark, Discuss This, and Related Community buttons on your browser to make it easy to quickly share information with your colleagues. The Add Bookmark button lets you share bookmarks to favorite web pages with a single click. Click Discuss This to broaden a discussion outside of your current forum, blog or wiki post. Click Related Community to share information on a community that other communities might find interesting.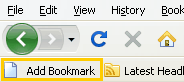 Install
Make sure your browser's toolbar is visible.
Add Bookmark Button
Drag the Add Bookmark button to your browser toolbar.
To create a bookmark, visit a web page then click the Add Bookmark button. Specify where you want to store the bookmark and whether to share it with others.
Discuss This Button
Drag the Discuss This button to your browser toolbar.
When you see an IBM Connections forum, blog or wiki post you want to discuss with others, click the Discuss This button and specify where you want to post the content.
Related Community Button
Drag the Related Community button to your browser toolbar.
When you find a community that might interest members of other communities you belong to, click Related Community in the browser toolbar and select the communities with which you want to share this information, The community you found will appear in the Related Community widget of these other communities.